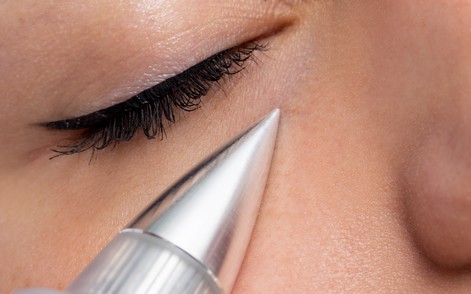 Plasma fibroblast is a revolutionary treatment offering non-surgical, non-invasive skin tightening and wrinkle removal. Treatments can be performed quickly and recovery time is minimal, so you can be back to your everyday life in no time at all – but with smoother, more youthful skin.
Talk to our team about plasma fibroblast. We can put your mind at rest and answer any of your questions about the treatment. Call 01634 723 600 or email .
What is plasma fibroblast?
Plasma is a matter that is formed when atoms are split – this is a revolutionary treatment using the latest technology to achieve stunning results. The treatment is carried out with a handheld device called a pen, which creates a plasma flash and delivers it onto the skin. This leaves behind very small scabs, which heal and fall off within 7-10 days. As the scabs heal, the skin below them tightens, making it firmer and ironing out wrinkles. And the process is as simple as that. It's safe, swift and non-invasive, which accounts for its popularity.
Book your appointment
We can help you tighten your skin and achieve a more youthful appearance. Improve your confidence – book an appointment with us. Just fill in our contact form and a member of our team will be in touch to confirm your appointment.
How could plasma fibroblast help you?
These are the main benefits of plasma fibroblast treatment:
Virtually pain-free process. We use a topical numbing cream first and any discomfort should be mild.
No surgery needed. The skin doesn't need to be cut, there are no stitches and you won't require an anaesthetic.
Rapid recovery. All you need to do is wait for the small scabs to heal, which generally takes 7-10 days.
No complications. Once skin reaches maximum lift, it stops lifting. The treatment won't cause permanent damage.
Excellent prices. Fibroblast treatments are much cheaper than surgery, starting from just £50.
Quick results. Your skin looks firmer straight away and continues to improve over a 12-week period.
A natural appearance. You won't look like you've had surgery. The results are incredibly natural.
No scars. Your skin will heal without any of the scars that would be left by a surgical procedure.
These are the concerns that plasma fibroblast can treat:
Wrinkles
Frown lines
Smokers' lines
Stretch marks
Skin tags
Hooded eyelids
What will happen at your appointment?
We will begin with a consultation, where we can advise you on the treatment required and the results we will be able to achieve.
This is the process we will generally follow at your fibroblast appointment:
We begin by talking you through the process and ensuring you're happy to go ahead.
A numbing cream is applied to minimise any discomfort during treatment.
We use our plasma pen on the required area. Treatment generally takes between 10 and 45 minutes.
We advise you on aftercare following your treatment. We'll give tailored advice for the best results.
Sometimes, more than one treatment will be required. This depends entirely on the area that's being treated – we can advise you further during your consultation.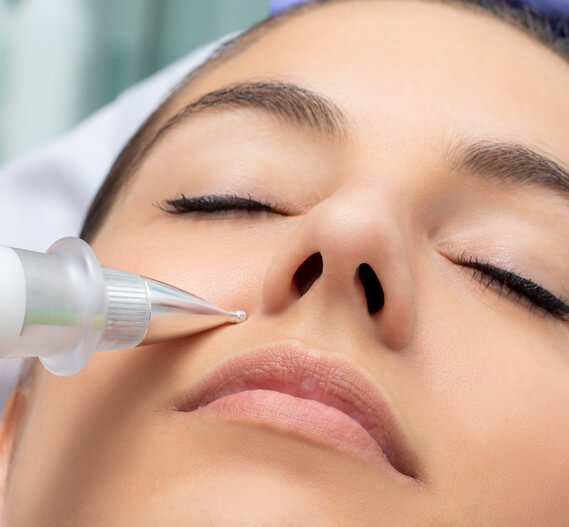 Plasma fibroblast prices and appointment times
Prices start from £150-£1,500 depending on the area that's being treated.
Consultation: £30
We can advise on what is required and give you a more accurate price at your consultation. The price of the consultation is redeemable against your treatment if you decide to go ahead.
Our opening times:
| | |
| --- | --- |
| Monday: | 9am – 8pm |
| Tuesday: | 9am – 3pm |
| Wednesday: | 9am – 8pm |
| Thursday: | 9am – 8pm |
| Friday: | 9am – 8pm |
| Saturday: | 9am – 6pm |
See the full price list for all our health and wellbeing treatments
Proactive Wellbeing – specialists in plasma fibroblast
We are specialists in plasma fibroblast, helping you improve your appearance and achieve a better sense of wellbeing. We can be part of your journey towards a happier, more confident version of yourself.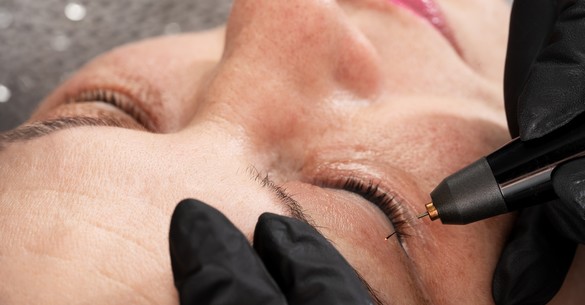 Contact us to ask questions or book an appointment.
We will help support your wellbeing and improve your way of life.