Advanced diagnosis for even more advanced treatments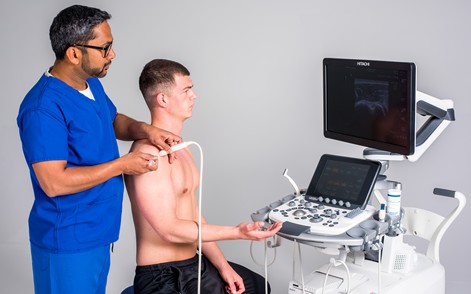 MSK ULTRASOUND
Musculoskeletal ultrasound, known as MSK ultrasound, is a way of using advanced ultrasound imaging to detect problems with the musculoskeletal system. We are knowledgeable and experienced in this area, helping us to deliver targeted treatments for issues with the joints, muscles and ligaments. Thanks to our advanced imaging systems, one of the most popular ways of doing this is by delivering targeted injections that provide you with more relief.
If you would like to ask us anything at all about MSK ultrasound, please get in touch with our team. Call  01634 723 600 or email .
What is MSK ultrasound?
MSK ultrasound is simply a way of scanning the musculoskeletal system to offer more advanced, targeted treatments. It is similar to a scan on any other part of the body – it is able to look at your musculoskeletal system and find issues that might previously have been undetectable. It is a very useful way of diagnosing ongoing pain and problematic symptoms that could be related to a whole host of other issues.
Book your appointment
We can help give you an accurate diagnosis for MSK issues. Just fill in our form and we will be in touch to set up your MSK ultrasound appointment.
How could MSK ultrasound scanning help you?
MSK ultrasound scanning can be used to diagnose a variety of issues, including:
Tendon tears
Plantar fasciitis
Trapped nerves
Joint inflammation
Muscle tears
Collections of fluid
The early stages of arthritis
Cysts
Foreign bodies in soft tissue
Sprains
The good news is that many of these issues can be treated more effectively once you have an in-depth diagnosis with ultrasound imaging. There are two main treatments that are offered following diagnosis:
Targeted steroid injections. Your therapist will be able to see exactly where to place the injection for maximum effect. This treatment is often offered by GPs, but they won't have any of the same resources and won't be able to achieve the same degree of accuracy.
Platelet-rich plasma injections. This makes use of your own blood which is re-injected into the affected area. It can even help patients avoid the need for joint replacement surgery.
By offering ultrasound-guided injections our therapists can get much better accuracy and can achieve better long-term results for you.
MSK ultrasound prices and appointment times
1 x scan and injection treatment (if the injection is administered on the same day): £500 per joint
3 x PRP injections following initial scan: £1,500 per joint
Our opening times:
| | |
| --- | --- |
| Monday: | 9am – 8pm |
| Tuesday: | 9am – 3pm |
| Wednesday: | 9am – 8pm |
| Thursday: | 9am – 8pm |
| Friday: | 9am – 8pm |
| Saturday: | 9am – 6pm |
Proactive Wellbeing – specialists in MSK ultrasound
We are specialists in MSK ultrasound and offer specialist treatment following diagnosis, too. We have an expert team on hand to deliver treatments – meet them here and find out more about what they do.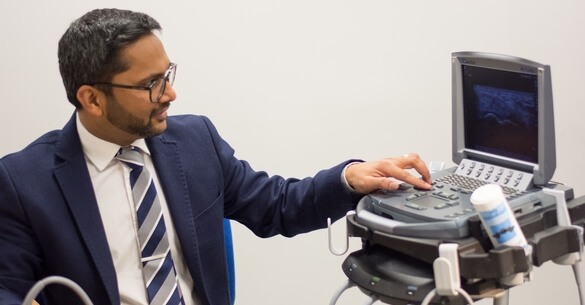 Contact us to ask questions or book an appointment.
We will help support your wellbeing and improve your way of life.