A relaxing, cleansing treatment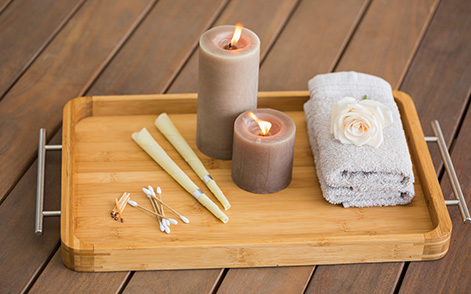 HOPI EAR CANDLING
Ear candling is a traditional technique that helps unblock your ears through a relaxing, rejuvenating session. We have more than 25 years' experience in holistic therapies and ear candling is a particular area of expertise – we help all our clients feel completely at ease and gain maximum relaxation, as well as ensure the process delivers all associated health benefits. Come and talk to our therapists and we will help draw out impurities and unlock better wellbeing.
If you would like to ask us anything at all about ear candling and the process, please get in touch with our team. Call 01634 723 600 or email .
What is ear candling?
The technique of ear candling dates back to the ancient Egyptians, Greeks and Romans. It takes its name from the Hopi tribe, Native American people known for their knowledge of healing and deep spirituality. Originally thought to be a way of purifying the body, people now choose ear candling because of the holistic benefits, enjoying the cleansing effect as well as the warmth, comfort and relaxation of the whole experience.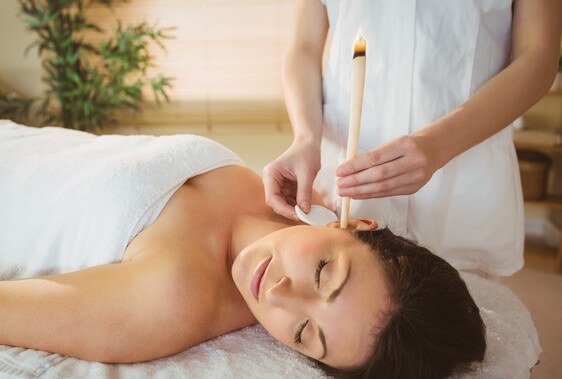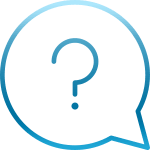 What will the appointment be like?
Many people say that ear candling is a deeply relaxing experience. The hollow tube of the candle is gently placed into your ear, and when it is lit, it draws out impurities. We pair the treatment with a light, gentle facial massage to help you truly unwind.
Book your appointment
We perform professional ear candling that can improve your health and wellbeing. Just fill in our form and we will be in touch to set up your appointment.
What are the benefits of ear candling?
Ear candles can bring health benefits as well as holistic ones, helping you to feel more relaxed whilst also getting to work on your body and drawing out impurities. These are some of the key benefits:
Ear wax removal. The wax in the ears heats up, loosening it. It usually comes out of the ears naturally within the next 24-48 hours.
Relaxation. Your ear candling treatment will be warming and calming. Paired with a gentle massage, it makes for a relaxing experience.
Cleansing and clearing. Impurities are removed, clearing out the ears and surrounding passages. Hayfever and sinusitis sufferers can really feel the benefits.
Relief from other health problems. Many people report benefits such as relief from headaches and migraines, tinnitus and vertigo.
What will happen at your appointment?
Your ear candling therapist will talk you through the process, before asking you to lie down on a comfortable treatment bed. The candle is gently inserted into your ear, and when it is lit you will begin to feel the gentle warming sensations associated with this treatment.
Your appointment will last for around 30 minutes.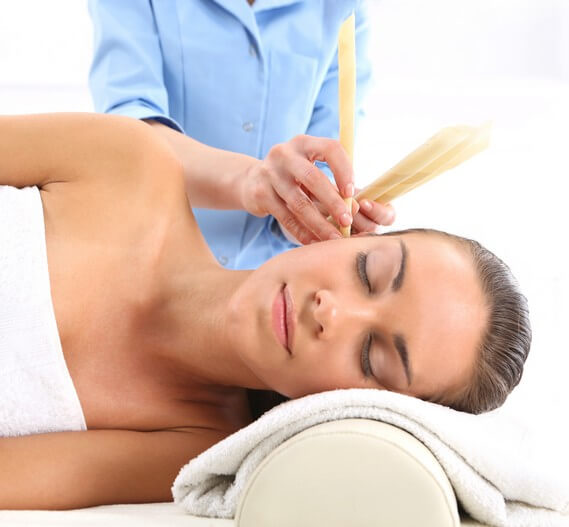 Ear candle prices and appointment times
Initial ear candling: £35
Ear Candling follow-up: £30
Our opening times:
| | |
| --- | --- |
| Monday: | 9am – 8pm |
| Tuesday: | 9am – 3pm |
| Wednesday: | 9am – 8pm |
| Thursday: | 9am – 8pm |
| Friday: | 9am – 8pm |
| Saturday: | 9am – 6pm |
Proactive Wellbeing – specialists in holistic therapies
We have a range of specialisms between us and we always tailor our experience to your requirements. Talk to us about what you want to achieve – we always take the time to listen to you.
Find out more about us, who we are and what we do before your visit.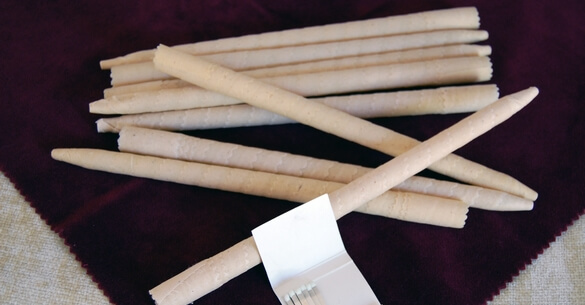 Contact us to ask questions or book an appointment.
We will help support your wellbeing and improve your way of life.